Welcome

Rainbow over the stadium captured by our webcam last Saturday (October 10) Welcome to Huddersfield.guide, packed with information about Huddersfield, West Yorkshire.

If you're new to the town, you may first like to see our page with an Introduction to the area.

Look up the many villages and small towns in the Huddersfield area in our Villages gazetteer.

The Home button provides links to all the other information in Huddersfield.guide

We also have a regular picture quiz, just for fun, which is posted here each Friday.


Huddersfield Town 1 - Derby County 0
Huddersfield Town achieved a third win of the season at home on Tuesday evening (October 20) beating Derby County 1-0 and building on the success of their win at Swansea on Saturday.

Juninho Bacuna was Town' scorer with a goal in the 53rd minute.

Although still early days this season and before more matches on Wednesday evening, it put Town in a position they have not seen for a long time, up to 8th in the Championship table.

Town have another home game on Saturday (October 24, 3pm) when they take on Preston.


Picture quiz

For our picture quiz this week we have a 'binoculars' view of a hill and a church. Where can they be found?

If you don't know the answer we will post it here next Friday.


---

Digley Reservoir, Holmbridge For our picture puzzle last week we asked where the pictured bridge can be found.

The answer is at Digley Reservoir near Holmbridge. Work began on construction of the reservoir in 1946, filling the lower part of the valley of Digley Brook below Bilberry Reservoir, which was originally built more than 100 years earlier with its dam burst being responsible for the Holmfirth Flood of 1852.


Rise in Covid-19 less severe than in big cities
The number of new cases of Covid-19 is rising in Kirklees, but nowhere as severely as in Yorkshire's biggest cities.

In terms of proportion of the population, some 1.8% have tested positive in Kirklees since March, which is much closer to the 1.6% of population seen in Calderdale and Wakefield districts than in Leeds and Bradford where the figures have been shooting up in the last couple of weeks, to 2.2% in the case of Leeds and 2.8% in Bradford.

Three of the four South Yorkshire districts, Barnsley, Rotherham and Sheffield are also above the 2.0% of population mark, in Sheffield's case up to 2.4%. Doncaster, on the other hand, has a lower figure of 1.6%.

Kirklees continues to have level 2 High tier restrictions, but two of Kirklees' seven neighbouring districts will be elevated to the level 3 Very High tier restrictions in the next few days. Oldham in Greater Manchester, which includes the villages of the Saddleworth area, will be on the Very High tier from Friday, while Barnsley district, in South Yorkshire, will be on the Very High tier from Saturday.

As well as measures including pubs being shut unless they are serving a substantial meal, the tier 3 restictions come with travel advice to avoid entering a Very High alert level area other than for things like work, education or youth services, to meet caring responsibilities or if you are travelling through as part of a longer journey.

Our four West Yorkshire neighbours, Calderdale, Bradford, Leeds and Wakefield remain on the level 2 High restrictions where it is advised you can continue to travel to venues or amenities that are open, for work or to access education, but should look to reduce the number of journeys you make where possible.

If heading over Holme Moss for a day in the Peak District, our other neighbour is the High Peak district of Derbyshire where some council wards are in the level 1 Medium tier, where Government travel advice is to walk or cycle where possible, or plan ahead and avoid busy times and routes on public transport, while some council wards are on the level 2 High restrictions.

Take at look in more detail at the Government's latest tiers system and how Kirklees compares with its neighbouring districts at the

Yorkshire.guide Covid-19 update page.

Latest data based on Covid-19 total positive test statistics as published by GOV.UK - Wednesday October 21, 2020 at 4.43pm.
Page contains official data available under Open Government Licence v3.0


If you need the latest official UK government information on Coronavirus (Covid-19), including links to NHS advice and to what you currently can and cannot do in England today, it can be found at this GOV.UK - Coronavirus webpage.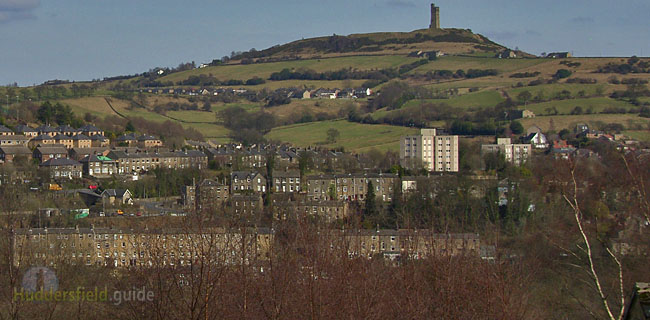 Local villages and districts
Check out our index of more than 100 villages, small towns, districts and hamlets in the Huddersfield area on our Villages page.


Take a virtual tour of Yorkshire
Find places across Yorkshire or make up your own virtual tour of the region at

Yorkshire.guide
Recent news topics
Archived:
Rail upgrade consultation: Third stage public consultation on plans for railway upgrade between Huddersfield and Dewsbury

---
Rank parking enforcement: Stay safe from the Kirklees Council parking enforcers

---
Rugby League museum: National Rugby League Museum plan for George Hotel

---
Rail upgrade funding: £589m for railway upgrade

---
New head coach for Town: Appointment after end of season Championship survival

---
Rugby League World Cup 2021: Huddersfield will host quarter-final

---
Moorland fire: Fire risk reminder after big blaze at Peak District beauty spot

---
Rail franchise change: UK government takes over from German government-owned company

---
Multi-storey car park: The Queensgate multi-storey car park closed for an indefinite period in February.

---
Northern rail franchise: Government to take over services from March.

---
Pacers in 2020: Penistone Line allowed to keep 1980s bus-based Pacer trains beyond expiry date.

---
News archive 2019: News from 2019.

---
News archive 2018: News from 2018.


Also in Huddersfield.guide
Introduction
Webcam
Maps
Travel
Villages
Town Centre
Pictures
---