Rail travel in and around Huddersfield
---
Huddersfield Railway Station

Huddersfield railway station is the fourth busiest in Yorkshire after Leeds, York and Sheffield and is used for around five million passenger journeys per year.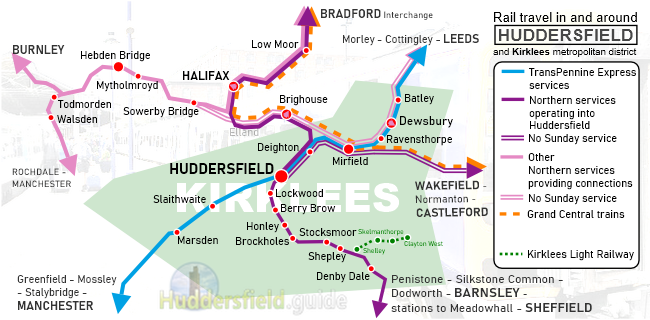 Huddersfield is usually served by more than 250 trains a day, although possibly a little fewer at present. They offer direct services to and from more than 80 destinations throughout the north of England, with connecting services to many other places.


More than 100 stations can be reached from Huddersfield in under an hour. Virtually all destinations have at least an hourly service during weekday daytime. As at May 2021, there are 4 trains per hour to Leeds and Manchester, 2 to York and 1 to Manchester Airport.
There will only be one through train a day to Scarborough on weekdays in Summer 2021, but passengers will be able to change to an hourly service from York.

A new five-coach Transpennine Expess Nova 3 train bound for Scarborough and a new Northern Class 195 three-car diesel unit, both built by CAF of Spain, are pictured at Huddersfield

Railways also play an important part in the local commuter network with several Huddersfield area villages and other towns in the Kirklees metropolitan district able to achieve faster times into Huddersfield by train than by bus or car on the congested road network.


If travelling by rail to London, this can be achieved on one of several trains per hour requiring one connection for main routes to the capital. Journeys generally take between around 2 hours 56 minutes and 3 hours 16 minutes. There are no direct services from Huddersfield to London.


Our Calder Valley Line page provides information on
Huddersfield - Brighouse - Halifax - Low Moor - Bradford Interchange
and where to change for journeys from Huddersfield to
Sowerby Bridge - Mytholmroyd - Hebden Bridge - Todmorden - Walsden



The Penistone Line page provides information on the useful commuter services to and from Huddersfield from several villages to the south-east of the town on the line which continues to Penistone then via Barnsley and Meadowhall to provide a slow but only direct link to the city of Sheffield.



Our Huddersfield Line page provides details of trains in the direction of Leeds and also towards Wakefield including:
Huddersfield - Deighton - Mirfield - Ravensthorpe - Dewsbury - Batley - Morley - Cottingley - Leeds
and
Huddersfield - Deighton - Mirfield - Wakefield Kirkgate - Normanton - Castleford



Our Huddersfield Line to Manchester page has information on westbound trains, including those calling at Slaithwaite and Marsden.




Rail operators running trains from Huddersfield are Transpennine Express, run by First, and Northern, which since March 2020 has been operated by Northern Trains Ltd, run by the UK Department for Transport.


Typical journey times
Comparison of typical weekday journey times from and to Huddersfield.


Times in minutes
Italics - involves a change
Dec - May 2020 |
May - Dec 2019 |
Dec - May 2019 |
before May 2018
Brighouse
10-13
10-21 !
9-20 !
14
Dewsbury
10-20
8-16
8-16
10-15
Leeds
19-24
19-24
19-24
20-33
Halifax
22-23
21-33 !
20-34 !
24
Wakefield (Kirkgate)
25
24-26
23
30
Manchester (Victoria)
30-36
29-31
29-31
31-50
Bradford Interchange
36-37
36-47 !
35-48 !
42
Manchester (Piccadilly)
39-46
36-41
39-42
31-35
York
45-54
42-52
43-49
44-50
Barnsley
47
47
47
53
Wakefield (Westgate)
49-65 *DD L
49-53 *DD L
53 *DD L
38
Oldham
58-60 #MV
Manchester Airport
63-65
56-62
58-62
59-71
Liverpool (Lime Street)
71-75
67-71
68-71
65-89
Sheffield
76
76
76
80
Hull
78
82-89
83
79
Darlington
79-84
78-82
79-83
78
Warrington (Central)
80 *DD M
79-85 *DD M
80-84 *DD M
59
Durham
96-98
95-99
95-99
96-108
Newcastle
108-114
106-116
111-114
110-122
Middlesborough
109-112
113-125
112
103-122
Scarborough
110
100-103
95
101
Our green is faster, red is slower compares the current timetable with the best achievements of recent timetables, while ignoring small differences.
*DD - Direct service discontinued.
! - Timetable amendmends by Northern in 2019 created a large discrepancy between improved outbound and much worsened inbound journey times.
#MV - Oldham is no longer on the national rail network as its railways were replaced with a slower tram system. However, this time can be achieved by travelling by train to Manchester Victoria then tram to Oldham. This journey is marginally quicker than bus (79 mins) and considerably quicker than the route in National Rail journey planners of train from Huddersfield to Manchester Victoria, train from there to Rochdale then tram to Oldham.
L - Now involves change at Leeds to ensure fastest arrival at Wakefield Westgate by train.
M - Now involves change at Manchester Piccadilly. Warrington Bank Quay can also be reached via Manchester Oxford Road in 79 minutes or via Manchester Victoria in 75 minutes, depending on departure time from Huddersfield.
Please check timetables or with rail operators for full and up-to-date details. This travel study is provided for general guidance.
Useful web links
The website of West Yorkshire passenger transport authority Metro offers live departure information for all stations and for bus stops in West Yorkshire together with timetables. National Rail offers a journey planner and live station departure and arrival information across the country.

---

Metro West Yorkshire passenger transport authority Metro's website (external link).
---

National Rail National Rail Enquiries and journey planner (external link).


Also in Huddersfield.guide
Travel
Places to go
Map
---